Welcome CBE! 
Welcome to our Undergraduate Announcement and Highlights Page! Your one-stop source for essential updates, events, and resources tailored to your academic journey. Stay connected, informed, and engaged as you navigate your path to success. Explore, discover, and make the most of your time as a CBE Student! 
Academic Updates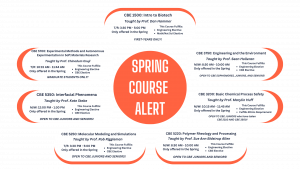 Sophomores
All Sophomores must register for CBE 2310 and CBE 3500 for the upcoming Spring Semester.
Please also consider CBE 3200 as an Ethics Substitute. CBE 3200 is offered each Spring; Prerequisites: CBE 2310 and CBE 3500. 
Juniors
All Juniors must register for CBE 3530 and CBE 3710. If you have any issues registering for CBE 3530, please request a permit on Path, and email Hannah for approval.
Seniors
All seniors must register for CBE 4590. Please email Hannah with your Spring course plans so that your senior audit can be complete.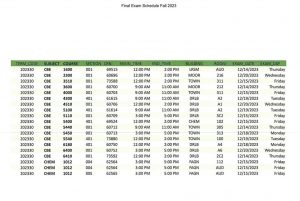 Reminders
Penn Engineering Weekly is online here: https://ugrad.seas.upenn.edu/seas-weekly/.
CBE Study Halls
Tuesdays, 5:15 PM – 7:15 PM, Towne 313
Thursdays, 5:00 PM – 7:00 PM, Towne 315 and Zoom
*Study Halls end after 12/7/23. We will resume study halls in Spring '24.
VIPER Now Accepting Transfer Applications
The Vagelos Integrated Program in Energy Research (VIPER) is a coordinated dual-degree program at Penn that prepares talented undergraduate students to advance sustainable energy science and technology and become the next generation of energy leaders. VIPER students:
Gain an interdisciplinary STEM education as they earn both a Bachelor of Arts and a Bachelor of Science in Engineering

Receive guidance on how to conduct research and communicate science effectively

Conduct fully-funded research for multiple summers

Receive conference-travel funding and supplemental research funding, and

Join a collaborative network of energy leaders.
Students are encouraged to submit applications early. Applications must be received no later than Monday, December 18. For more information and to apply, click here. 
CBE Events
Our CBE Events will resume in Spring '24.
SEAS Events & Announcements
Calling all Penngineers!
Interested in learning more about investing? Ever thought about what you'll do with that massive paycheck one day?
If so, get excited for Engineering your Wallet! This is a Personal Finance Seminar specially geared towards engineering students.
Learn how to prepare for your future (or current!) paychecks. Join Penn Engineering Council and Common Cents for an interactive game and talk about investing and personal finance.
Come for the free bubble tea, free stickers, and chances to win free Penn Engineering sweatshirts!
Towne 100. 7:00 – 8:00 pm. Monday Dec 4
Can't wait to see you there!
SWE Ornament Making Event 
SWE will be hosting  an Ornament Making event this Thursday, December 7th from 7-8 pm in Levine Lobby. he RSVP form can be found here.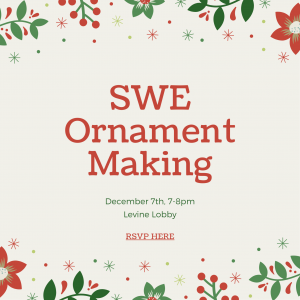 Cornell University invites you to a Master of Engineering in Chemical Engineering – Information Session.
December 8, 2023 8:00 – 9:00 AM EST via Zoom, please register: Registration Link
Is chemical engineering right for me?
Chemical engineers work with chemical change and chemical processing. They develop ways to produce chemicals, or design, build, and operate a chemical production plant. They search for new sources of energy or work to clean up the environment. Chemical engineers also play an important role in new technologies such as semiconductor processing and biotechnology or in the development of new materials such as polymers and ceramics.
USABE* Student Survey 2023
Link: https://tinyurl.com/usabestudentsurvey2324
As we approach the end of the semester, USABE (Underrepresented Student Advisory Board in Engineering) is asking for you to reflect on your time in Penn Engineering and provide feedback on your experiences thus far as an underrepresented student. Please fill out this brief anonymous form to help us continue our support of underrepresented students! We will be using the collective feedback from this survey to advocate for the interests of underrepresented students to SEAS faculty and administrators.
*USABE (Underrepresented Student Advisory Board in Engineering) is a Penn Engineering undergraduate organization that works with SEAS leadership to promote diversity, equity, and inclusion through student advocacy.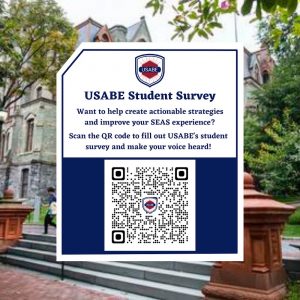 Seeking Participants for EDAB Wellness Focus Groups
Please RSVP using the link below if you would like to share your thoughts on the wellness resources available at Penn and Penn Engineering with members of the Engineering Deans' Advisory Board. We will be hosting focus groups over zoom at a few different time slots specified in the form. All of your feedback will remain anonymous and aggregated.
Thousand Paper Cranes Project with Dr. Gwak
There is a Japanese legend that if you fold 1000 paper cranes, you will be granted a wish. Cranes are also symbols of peace and good health. Would you like to help Dr. Gwak fold 1000 paper cranes? No experience necessary. All materials will be available on site.
Wednesdays 2-3pm: Office of the Chaplain (240 Houston Hall)
Thursdays 3-4pm (except Thanksgiving Day): Levine Lobby
Random other days in Levine Lobby
Jobs & Internships
EXPECTATIONS FOR PENN ENGINEERING STUDENTS
Penn Engineering holds the standard that students who register for employer events plan to attend. No shows reflect poorly and may disincentivize employers from attending future events at our school, as well as impact your ability to meet with company representatives and be considered for opportunities. When you RSVP for an event, please take that commitment seriously. If you have any questions or concerns, please email Employer Relationship Manager Lauren Kemp (laurem@seas.upenn.edu).