About Our Students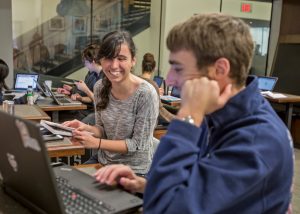 Students who choose Chemical and Biomolecular Engineering come to Penn eager to tackle real-world problems. They relish the challenges posed by math, chemistry, physics, and the biological sciences.
A major in chemical and biomolecular engineering opens a wide range of opportunities. The Chemical and Biomolecular Engineering program teaches them to think across length scales that span from the molecular to the macroscopic. It enables them to move from studying chemical reactions at the nanoscale to designing industrial plants. Our graduates may move on to discover a unique molecular reaction in a cell, or they may develop a method to deliver a drug to that cell. Both our undergraduate and graduate students are uniquely positioned to influence the worlds of business, medicine, industry, and the environment and to advance to the highest levels of research and academia.
Undergraduate Spotlight
Cesar Ruiz de Castilla
Chemical and Biomolecular Engineering
Class of 2022
Hometown: Annapolis, MD
Research Interest: Advanced Materials and Technology, Medicinal Research
What motivates your interest in Engineering?
It's really the final step in what I consider to be a remarkably interesting and important process. Science is the way we understand the universe, math is the language we use to do so, and then engineering is the way to apply that knowledge to real-world situations. It has tremendous potential.
What made you choose CBE as a major?
I've always had a passion for the combination of technology and the pharmaceutical industry, especially with the promise of technology! CBE seemed like the perfect major to pursue that.
Why did you choose Penn Engineering?
The culture in the campus is a very accepting and uplifting one, and Penn Engineering is well known for innovations in a variety of different fields, including computing and biomedicine.
What is your favorite thing to do?
Mountain biking.  One of my best experiences was at Spiro, but what I want to try eventually is "The Whole Enchilada" at Moab.
Learn more about the BSE in Chemical and Biomolecular Engineering.