The Ph.D. Program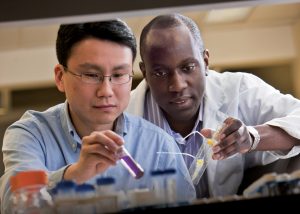 The Ph.D. in Chemical and Biomolecular Engineering is primarily a research-oriented degree for students showing exceptional promise for original contributions to the theory and practice of chemical and biomolecular engineering.
The degree is a virtual requirement for those planning to teach chemical and biomolecular engineering, as well as for those planning on a research career. Doctoral candidates are expected to show superior capability for independent work and study.
Requirements include:
A minimum of 10 credit units consisting of formal graduate courses, including several specified by the Graduate Group Committee.
A grade average of at least B must be kept to remain in good standing. Students with an undergraduate degree in a field other than chemical and biomolecular engineering receiving a grade of C or below in any required undergraduate course will be asked to withdraw.
Participation in a formal teaching practicum under faculty guidance for two semesters (not exceeding 10 hours per week), generally in their second year. Pennsylvania law requires a standard of proficiency in English for anyone teaching a class in the state. Students whose native language is not English must pass a "Speak Test."
Qualifying Examination: All first-year graduate students in the Ph.D. program must take the qualifier. This examination is given each year at the end of Spring semester and may use a written or oral format or both. The exam covers fundamental chemical engineering principles and may also include a research proposal.
Doctoral dissertation research and Thesis: A Ph.D. Thesis presents results of the candidate's research for evaluation by his or her dissertation research committee.
A detailed explanation of degree requirements and policies can be found here.
In This Section:
Your CBE Contact:
Alicia Pickul
Graduate Coordinator
Office:  311 Towne Building
Phone: 215-898-8351
Email:apickul@seas.upenn.edu
Helpful Links: